On April 30, 2017, two inches of water flooded the Aker's Ferry Canoe Rental shop. TheOzark National Scenic Riverways (ONSR) and the surrounding communities were hit hard by this year's historic flooding. Yet just a few weeks later, the outfitters were up and running; the park service had re-opened many of the access points on the upper Current River; and we were headed back to our favorite Ozark stream.
Our plan was to paddle from Baptist Camp to Cedar Groves, a short 6-mile section of the river, giving us plenty of time to fish.
Because of the crystal clear water and the elevated perspective, inflatable standup paddle boards are the best way to travel on Ozark streams, in our opinion.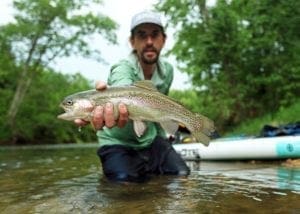 We've been obsessed with the ONSR for as long as we can remember. BOTE Boards,combined with our newfound love for fly fishing, only strengthens this obsession.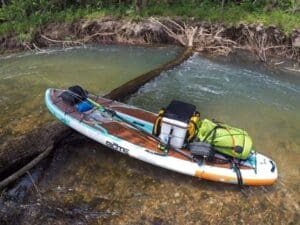 Safety on the river is always the No. 1 priority, especially after a big flood. At every sketchy spot, we hopped off the boards to make sure we were ready for stuff like this. Pictured above was the only spot we found that was not passable. Big thanks to the ONSR Stream Team and the local outfitters for doing all they did to clear obstructions.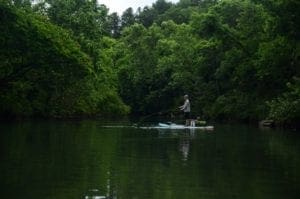 A backpacking state-of-mind is helpful when packing for an overnight paddle board trip. We like to add a small cooler full of chilled water, fresh food and ice cold beer.How we have been on this river for more than the past 20 years and never narrowed in on these fish until now seems almost unacceptable.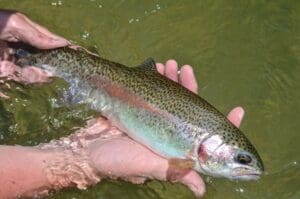 Brown trout can be elusive in the Current River, but you will definitely know when you have one hooked: they fight like monsters.
Nothing beats being able to just kick the board to the shore to fish a riffle and land a good fish.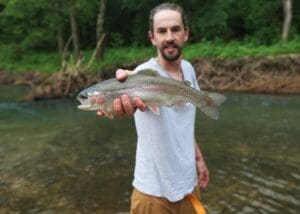 This was our most successful fishing trip on the Current River. In case you're wondering, every fish we caught, we put back in the river.