My buddy John an I  headed down to Heber Springs Arkansas to fish the
Little Red River
while several other of our buddies headed to lake Tanycome to fish. We arrived late Friday evening and enjoyed a pizza
for dinner
before checking into our cabin at Red River Adventures Trout Resort. The cabin was amazing and was located right on the water. The cabins were newly built last year out of fresh pine and cedar. They also have a deck facing the water. The resort has boats that can be rented so you can fish the entire river. The Little Red has many shoals that can be fished but are only accessible by boat. Enough about the comforts lets talk about the fishing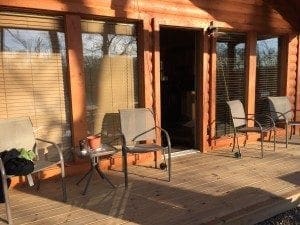 We ran into much of the same conditions that the other gang did high water. They were only running one generator but the water was still high due to all the rain in the past several months. But we over came the obstacle with the assistance of Doug Pearce a local guide his number is 
(501-230-0214
) in case your down there give him a ring. I highly recommend him. He spent 30 years as a game warden on and around the Little Red. He not only was a pleasure to fish with but I enjoyed getting to know him. He also shared several interesting  facts about the Little Red.
The Brown populations is self sustaining, No browns have been stocked since the 50's and you can catch rookies and cutthroats in the river as well. They release rookies every year but most get eaten by the browns before the can reach maturity.
We started fishing about 8:45 about two miles up stream of the lodge and let the current carry us down stream as we fished. We didn't catch our first fish until about 2hours in. Doug said that normally they would have landed a dozen or more fish by now. It was hard fishing all day we finally found a spot that yield fish and would float through spot over and over again. Each pass through one of us would catch a fish or two.
The hot fly of the day was
hares ear nymph
, fly formally known has prince nymph and
olive soft hackle
(weighted). We had to fish deep we were using all 9ft of our leaders to get to the bottom.  It was a good day of fishing considering the conditions. I would highly recommend checking out Red River Adventures Trout Resort 
redriveradventurestroutresort
.com/